Sustainability and Inclusion
Our ambition is to achieve an 'All-Inclusive' society, where no one is left behind, including diverse people, animals or plants, and also the global environment. We aim to create a society where differences are accepted as they are and a healthy co-existence takes place.
SOLIT stands up to make these things happen. What you need, to whom you need it, in the amounts you need. It would be a better choice for both people and the planet. With this philosophy and idea in mind, we want to be a company that takes sustainability and inclusion, economic and social, into its own hands.
Here, we would like to introduce our concept of sustainability and inclusion so that you can learn more about our approach.
Challenges in the fashion industry can and hope to be transformed
The fashion industry, which is so close to our lives, has so many 'lights' that brighten the spirits of those who wear them, illuminate our daily lives, and bring enjoyment and functional value to our choices.
On the other hand, it is also true that a number of challenges, which could be referred to as 'shadows', also exist.
Challenges in the fashion industry exist in the entire supply chain: 'production, labour, transport and disposal'. Energy consumption in production, soil pollution caused by agricultural chemicals, and CO2 emissions in factories. Furthermore, even though the products are produced with such a burden, they are made in large quantities and disposed of in large quantities, which is not a "good" way of manufacturing with a short life span at all.
> Ministry of the Environment - Report on sustainable fashion.
In addition, fashion is supposed to be an autonomous choice for everyone, but for some people 'choice' is limited. Although there has been research in Japan and abroad on behavioural changes in patients, carers and people with disabilities due to fashion, there are still few examples of this being implemented.
However, I believe that they are all things that "can be changed" and are also a guideline and hope that fashion should change in the future. It is because 'fashion' is the thing we hold in our hands every day and is the closest thing we have to it.
And because it is an industry that has a significant impact on the global environment. We at SOLIT stand up to realise a future in which diverse people and the global environment coexist in healthy harmony and where people's rights and dignity are well-established.
Our way of producing and our responsibility to produce.
Produce only the necessary amount of what is needed by those in need
Do not produce unnecessary products and reduce burdens on the environment. "Completely made to order" "Minimum order quantity" We produce the necessary amount of products only after they are needed.
Together with those experiencing troubles in fashion from planning, develop only necessary products.
Instead of providing standardised design, we realise the "wearer's choice" based on their own preference and physical characteristics.
Cooperating with companies and medical and welfare service providers sharing the same future, we plan and lead unprecedented product development and environment planning from SOLIT's knowledge and data.
Build an equal partnership
Under the current mass production system, factories usually cannot consider the required product sewing levels and contract prices. This is because sewing prices are calculated after client companies decide on components and sales prices.
However, we, SOLIT, decide how to make products together with manufacturers. We want to create spaces to think together as a team with manufacturers, not only to request what is already decided. As a result, we could reduce the tailor's unnecessary labour and improve design and unprecedented options.
Also, it costs a lot of labour to produce comfortable clothes for diverse people. We build equal partnerships with respect for manufacturers by making spaces to think together as a team and paying appropriately.
Keep employment of the technicians and lead to educate the next generations
It is an urgent issue that current sewing factories need more environments to educate the next generations and pass on the skills.
Mass production mainly adopts the assembly line system, which keeps sewing the same part of clothes because it prioritises efficiency. This results in less use of the sewing method that one person sews the whole pieces of a cloth. If the tailors learn only one part of the sewing process, they cannot sew the entire clothes or step up their skills and careers. Another concern is the skill of stitching the whole parts of clothes would disappear.
Our customisable clothes make more opportunities for one person to sew the whole part of clothes because we chose this sewing method. We can keep hiring skilful workers and lead to educating the next generation if we stably provide the job using the whole-sewing skill.
5 sustainabilities
1. NO MORE WASTE
We will not make any loss in the production process by adopting a made-to-order and minimum-order-quantity system.
We don't use tags that are unnecessary to wear and hang tags that are thrown away soon after the purchase.
2. LONG-LIFE PRODUCT
You can use our products longer because each of our products is made with durable materials.
You can choose semi-ordered products which fit your own body. By doing this, we are trying to make it less to throw away the products because they don't fit you.
We are open to speaking with you if your items become dirty and worn. We support repairing and remaking.
3. RECYCLING・REPURPOSING
We deliver our products in recycled cupboards without virgin raw materials and materials made from petroleum, which are unnecessary for packing.
To increase the efficiency in transportation, we use a box or a bag, which fits the items and doesn't leave any space.
To protect the items, we reuse "leftover fabrics." These fabrics were supposed to be abandoned in the factory, even though they were not used.
We collect clothes you don't need anymore for our research purposes. After being used completely, these clothes will be recycled and circulated by our recycling partner. This is how we try to use as little energy as possible to recycle and circulate resources.
4. HUMAN RIGHTS
We will make a request only if it is ensured that human rights are protected through interviews with producers involved in sewing, as well as those involved in planning and production, and those involved in sales, to ensure that minimum standards are met in terms of labor wages, hours, age, and sanitary conditions, and that proper care and management are taken.
In the development process, we take care to ensure the safety and ease of work and involvement of each of the stakeholders involved, including the parties involved, pro bono and professional staff.
5. BEYOND RULES
We will constantly rethink and question conventional definitions of beauty and consumption, and strive for genderless, timeless designs and options that are inclusive of diverse body types and characteristics.
We implement needs-driven production that goes beyond existing fashion and design rules, such as buttons should be here and seams should be there.
We do not ask for photos when hiring, joining a team, or in modeling for product shoots. We have a clear stance on this as an antilookism.
Inclusive Design Practices
Like sustainability, the concept of "inclusion," which embraces all, is not an ideal state that can be achieved easily, we do. We will listen to the voices of the parties involved in each issue each time we develop a product, ask them to join us in planning and development, and gradually increase the number of product patterns and styles that are inclusive.
It all started from someone's "wish
All SOLIT's products are finally ready for sale after hearings from people who have troubles in fashion and many trials and errors.
For each product, we send questionnaires and hold hearings with around a hundred people, let them try our prototypes, and then update them again…
No matter how well we could solve the issues around products, we never stop discussing whether making our products may "hurt someone" from the production to the circulation and whether shapes and approaches "may enforce our philosophies."
Our principle in decision-making is "whether those who have troubles will be satisfied or not."
We make a decision only after hearing the words and thoughts of the people involved in the issue. Always be aware of the fact that neither the SOLIT members nor the members sewing at the factory can judge whether this is really "right" or not.
Each person has a different body type, degree of disability, preferences, values, and ideology, and in the planning stages, including the production and verification of SOLIT, we try to have many people with various disabilities, ages, body types, and sexualities wear the product anyway. The final decision makers for the commercialized items are the people involved in the issue.
Our design includes diverse people and environments
SOLIT's inclusive design is not limited to those with "special needs" such as the disabled and the elderly but is created through discussions to be inclusive of all beings, from Human Diversty to Bio Diversity.
What we have not yet done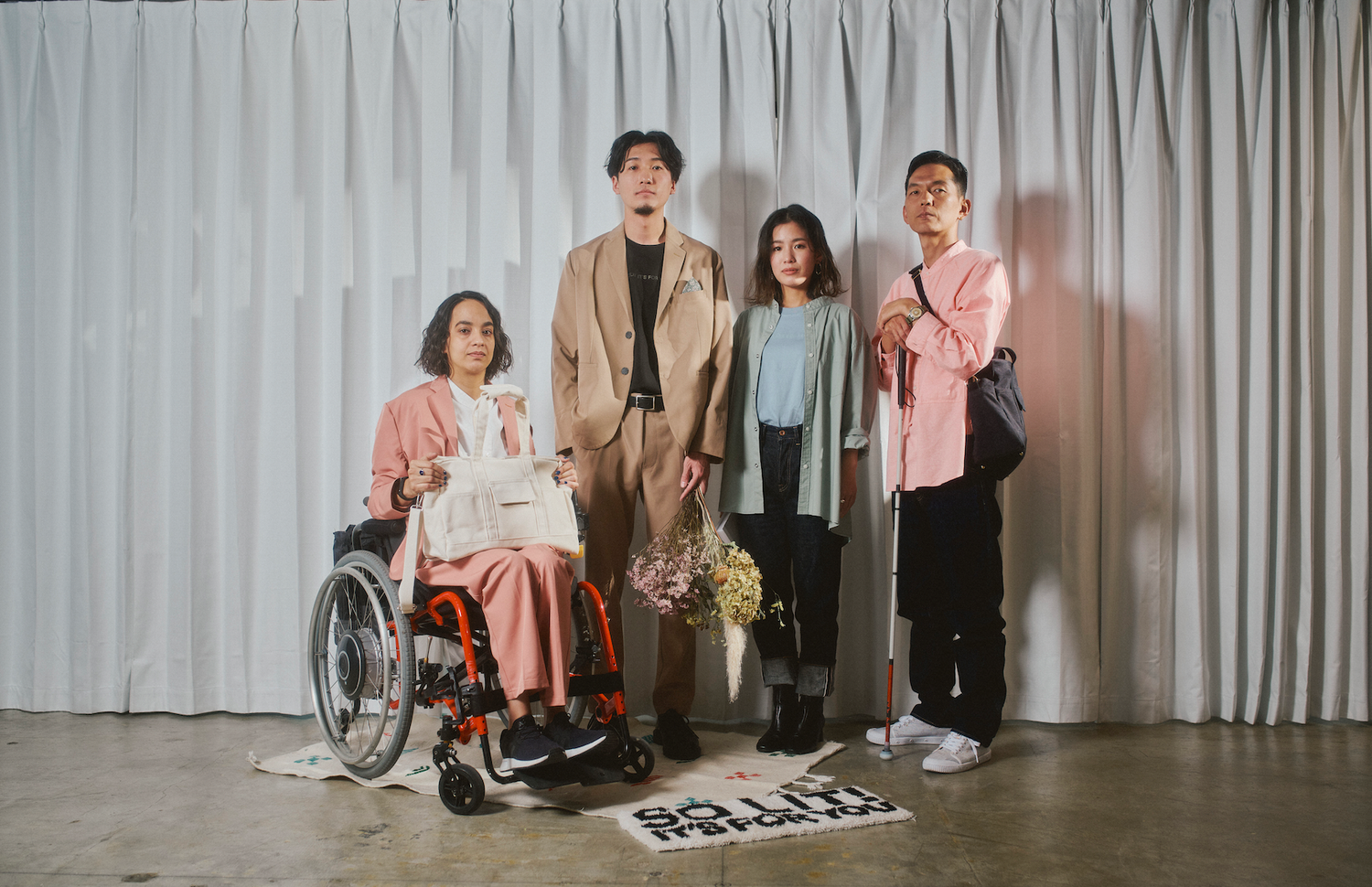 Future initiatives at SOLIT / What we are not able to do now
To open working environments and production backgrounds more
To select and produce better materials and cloth
To reduce impacts on the environment in transportation
To make designs and products which can include more and more diverse people
To maximise the possibility of recycling and repairing
At this stage, SOLIT does not have its own production farms or factories. Since we are not large enough to produce our own original fabrics, we can only select the best materials available in the market today. And even if we limit our transportation to the Asian region, we still have to deal with the environmental impact of transportation. SOLIT's major stakeholders include our customers, all consumers and shareholders who have any contact with SOLIT's business activities or acts of expression, our employees who work under various types of contracts, our collaborators and partners with whom we have co-creation relationships, and of course, local residents, We also include nature and the earth. SOLIT is still small enough that we can make decisions as soon as we all want to. Thankfully, the members of the sewing factory also sympathize with SOLIT, and the number of people wearing SOLIT's products is increasing. First of all, we will continue to push forward with what we can do because of SOLIT's distance.
For we are the ones who embody the most
SOLIT Organizational Structure
SOLIT is a community of various likes-minded people who share the same vision; SOLIT members themselves are a team of diverse decision makers from different nationalities, languages, sexualities, living environments, housing, ages, professions and occupations, who coexist and collaborate with each other. We also collaborate with hospitals and research institutes to conduct interviews and questionnaires with the people involved.
Final Decision Criteria
Decisions are made not for immediate short-term gain, but based on whether the project is inclusive of diverse people, does not burden the global environment (the more we build, the better off we will be), and takes human rights into consideration.
In order to realize a world that we call "all inclusive," we have the philosophy and idea of "only what is needed, by whom it is needed, and in what amounts it is needed. We also take into consideration the perspectives of "sustainability" and "inclusion" in the development of our products. Furthermore, we aim to realize an "all-inclusive economic zone" where people, goods, and money circulate through the cooperation of companies, organizations, and local governments, and to spread such a society in a sustainable manner. To realize this future, we alone are not strong enough. Since our establishment in September 2020, we have been able to take on a variety of challenges thanks to the support of all of you. We believe that actions to create the future are always one step at a time, right in front of us. We will always keep these ideas in the center and move forward step by step. / updated: 2022.12.20 Misaki TANAKA (Founder)