How can we realize a society in which no one is left behind, whether it is diverse people, plants and animals, or the global environment?
Our ambition is to realize an "all-inclusive" society where no one is left behind, whether it is diverse people, animals, plants, or the global environment. We aim to create a society that accepts differences as they are and allows them to coexist in a healthy manner.
SOLIT was launched to realize these goals. We want to be a company that takes inclusion and sustainability, as well as economics and social responsibility, into our own hands.
We also aim to realize an "economic zone" in which people, goods, and money circulate, with companies, organizations, and local governments working together to sustainably expand such a society. To realize this future, we cannot do it alone. That is why we are looking for people who will stand up together with us.
SOLUTION
For those who need it, what they need, in the amount they need.
SOLIT!" run a "made-to-order" fashion service that develops only what is needed and produces only what is needed when it is needed, working together with those who have felt the challenges of fashion from the planning stage.
You can customize clothing for yourself from more than 1,600 combinations to suit your individual tastes and physical characteristics.
We also provide planning and accompaniment services that utilize SOLIT's knowledge and data, such as new product development and environmental design, in collaboration with companies and medical and welfare providers who agree to realize the same future.
VISION
Building All-inclusive economic zone
We want to realize an "all-inclusive" society where diversity of values and choices of values are mutually recognized, and all beings, including nature, living creatures, humans, and technology, can coexist in a healthy harmony. This is not limited to the fashion field.
It concerns everything that is necessary for life, such as medical care, welfare, construction, real estate, automobiles, furniture and appliances, and so on. We believe that it is necessary for as many companies, municipalities, and organizations as possible to participate in this market and turn it into a "market.
Everything we develop is a "sign" for the future we want to realize.
For a future in which everyone can overcome physical, mental, and social limitations and oppression, and the various things that unconsciously bind them and others, and make choices that they genuinely "want to be" without restrictions.
There are still many things we have not done.
There are many things we cannot do alone.
That is why, as we are born here and now, we hope to look to the future together with you, making choices and asking questions.
We believe that the more choices we have in the future, the wealthier the "all inclusive economy" will be. We do not force anything.
I believe that it would be best if the world could be filled with "options for freedom and happiness" that would be the realization of the will of all people, animals, and nature, just like a galaxy, dotting the sky.
SOLIT. These words are for you now and for us in the future.
We are always open to collaboration and taking on challenges together!
mail us whenever you want to stand with us!
BRAND

The inclusive brand "SOLIT!" is one of our trademarked products. We also provide specially customized products to hotels, sports teams, and hospitals.

CONSULTING

Now SOLIT's inclusive design has been recognized globally, and we support new business development through our knowledge of D&I, sustainability, and problem-solving based design.

R&D

We collaborate with Kishiwada Rehabilitation Hospital and SDX Research Institute to develop planning and tools by using physical and psychological data of inpatients and outpatients.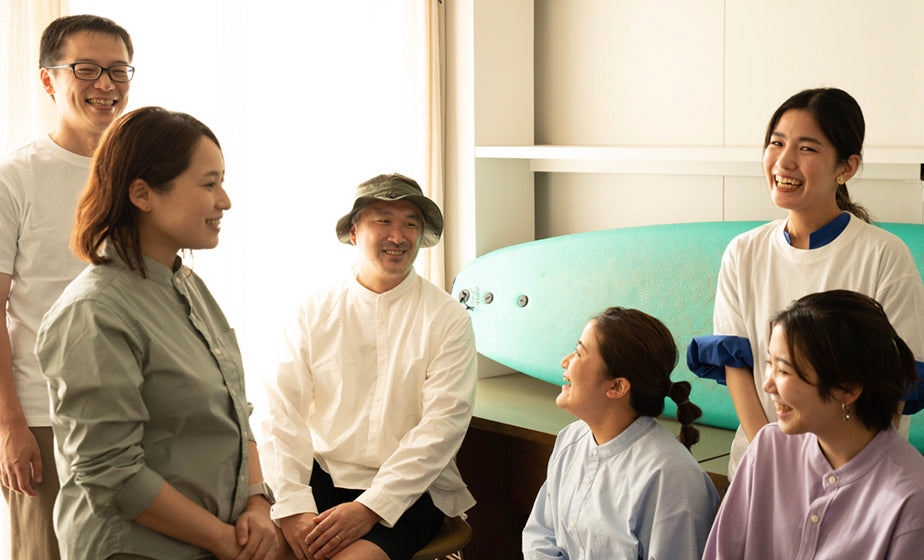 チーム
SOLITのメンバーは、それぞれが異なる分野で活動するプロフェッショナルの集団です。
ファッション関係者や医療・福祉従事者、クリエイターやPR・マーケティング領域の専門家まで、 多種多様な分野に属するプロフェッショナルが、「All inclusive経済圏」という構想に共感し、所属や属性を乗り越えたひとつのチームになりました。
既存の社会に"やさしく"中指を立てながら、まだこの世の中に存在しないものを生み出すことに没頭し、悩みながらもわくわくできる。 自分たちを問い続けることさえも楽しんでしまう、やわらかな傾奇者たちが集まりました。
MISAKI

CEO/Founder
ガイドヘルパー

NATSUMI

SUSTAINABLE&HUMAN RIGHTS

ITSUO

DIRECTOR

YUKIKO

PROJECT MANAGER
鍼灸師

ATSUKI

PLANNER

TOSHIHIRO

FINANCE

KEN

RESEARCHER
作業療法士

YURIKA

RESEARCHER
作業療法士

KYOHEI

RESEARCHER
理学療法士

TOMOKO

GRAPHIC DESIGNER
介護士

SHO

FINANCE

AKIKO

ADMINISTRATION

YOSHIE

HR

ZAKKY

PLANNER

SHINICHI

MARKETER

KUNIHIRO

STOCKHOLDER

SHOICHI

STOCKHOLDER

SUZUKA

WRITER

TAICHI

PLANNER

GU LAN

SALES

LI XIAOFENG

ENGINIEER

XU JIANLIANG

PATTERNER

XIA JIANZHONG

CUTTING

SIMA QINGHUA

SEWING

LU JINGMIN

SEWING

LUO WENFANG

PRESSING

CHENG DEJIAN

INSPECTION

REN HUIYAN

PACKING

PENG ZHIYUAN

MANAGER

NAOKI

ADVISORY BOARD

RURIKA

ADVISORY BOARD

ASKA

ADVISORY BOARD

MASAYUKI

ADVISORY BOARD

YASUHARU

ADVISORY BOARD

LAILA

ADVISORY BOARD