多様な人も、地球環境も、ともに考慮されたバッグ
Regular price
$174.00 USD
Regular price
Sale price
$174.00 USD
Unit price
per
Sale
Sold out
「All inclusive bag(オールインクルーシブバック)」、それは多様な人も、地球環境も共に考慮されたオールインクルーシブな社会を実現するために誕生しました。
 様々なサイズの収納スペースを複数設けることで、どなたでも鞄の中をスッキリと気持ちの良い状態で使用することができます。また、より永く愛してもらうために、経年変化を楽しめる帆布素材を本体生地に選びました。
All inclusive bagを構成する本体生地や内布、パイピングテープ、肩紐、縫い糸などをすべて「綿」に統一し、バッグとしての寿命を迎えた時にはリサイクルしやすいようこだわっています。廃棄を極力減らし、違う何かに姿を変えて愛し続けてもらえるように。
※チャックの開閉が簡単にできるよう、ジッパータブを付属させることができます。
※本製品は岡山県倉敷市を拠点にサーキュラーファッションを実践されている「land down under」との共同開発です。
Share
View full details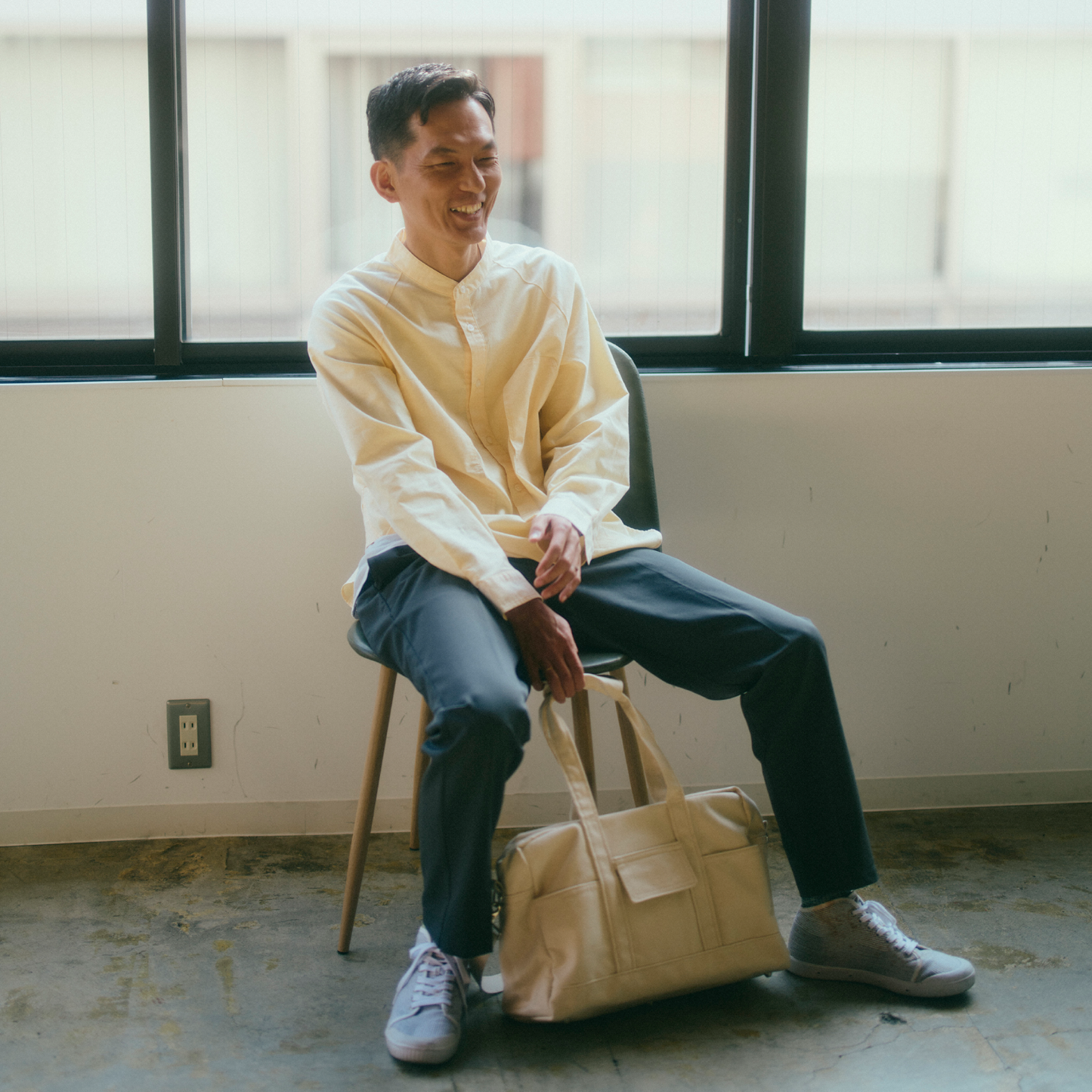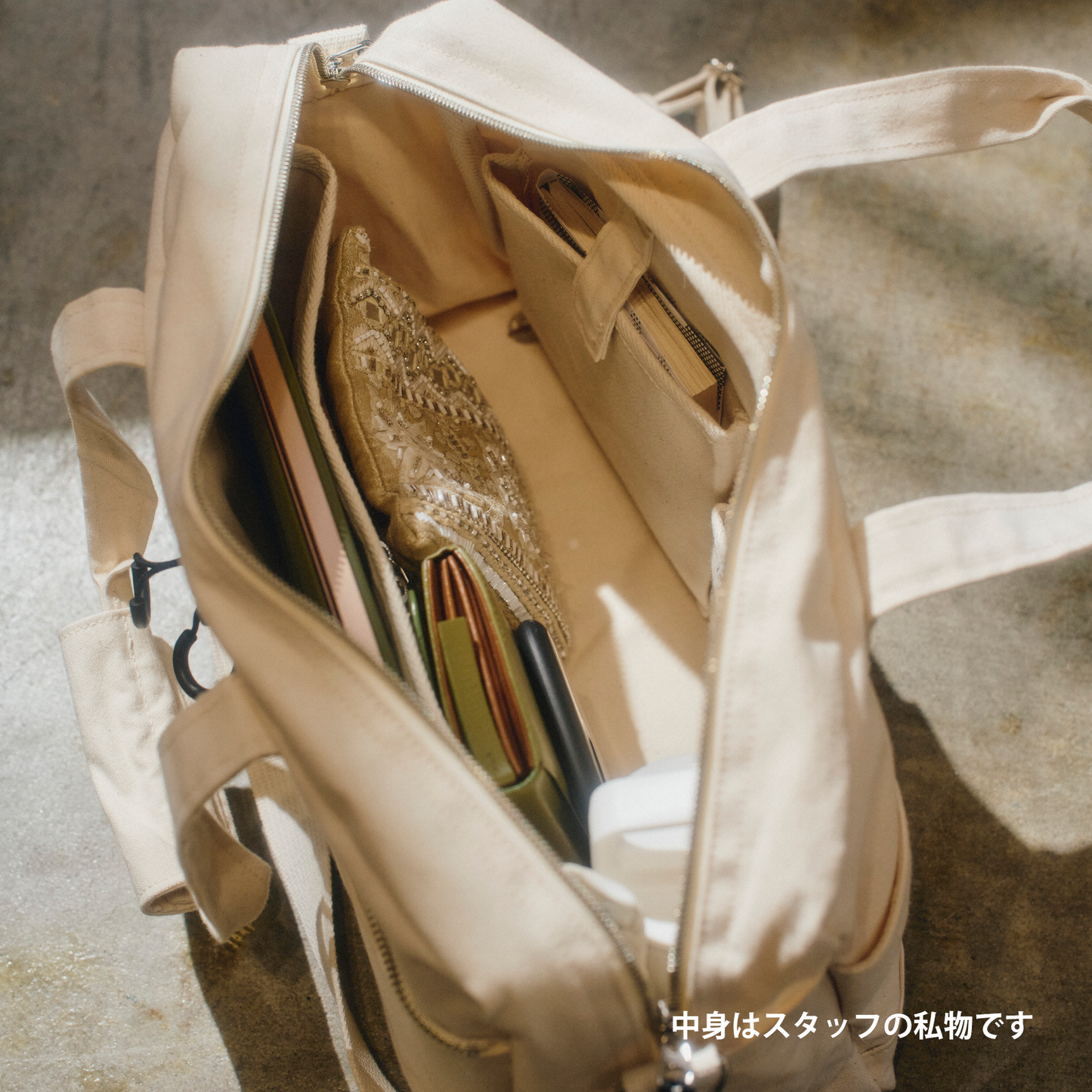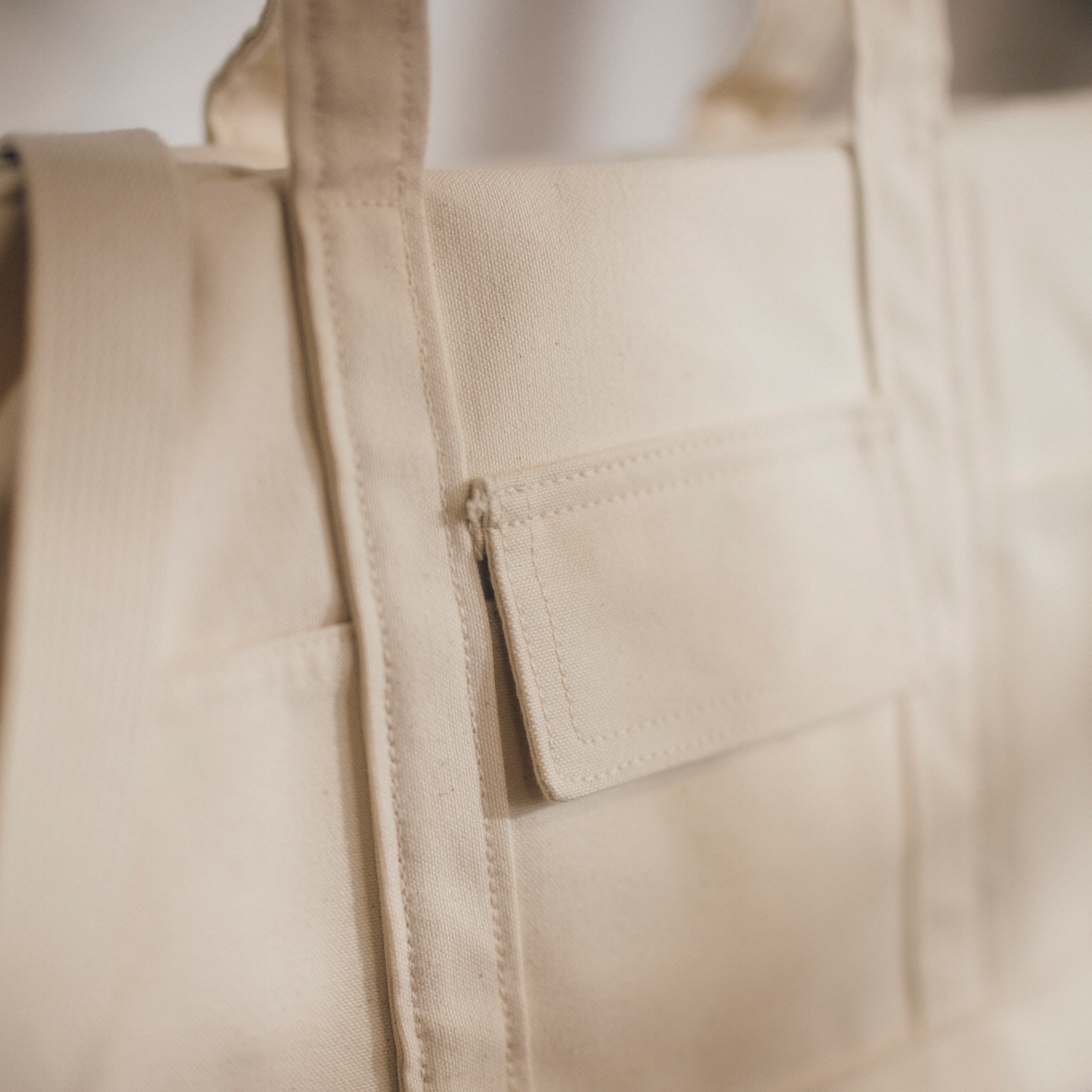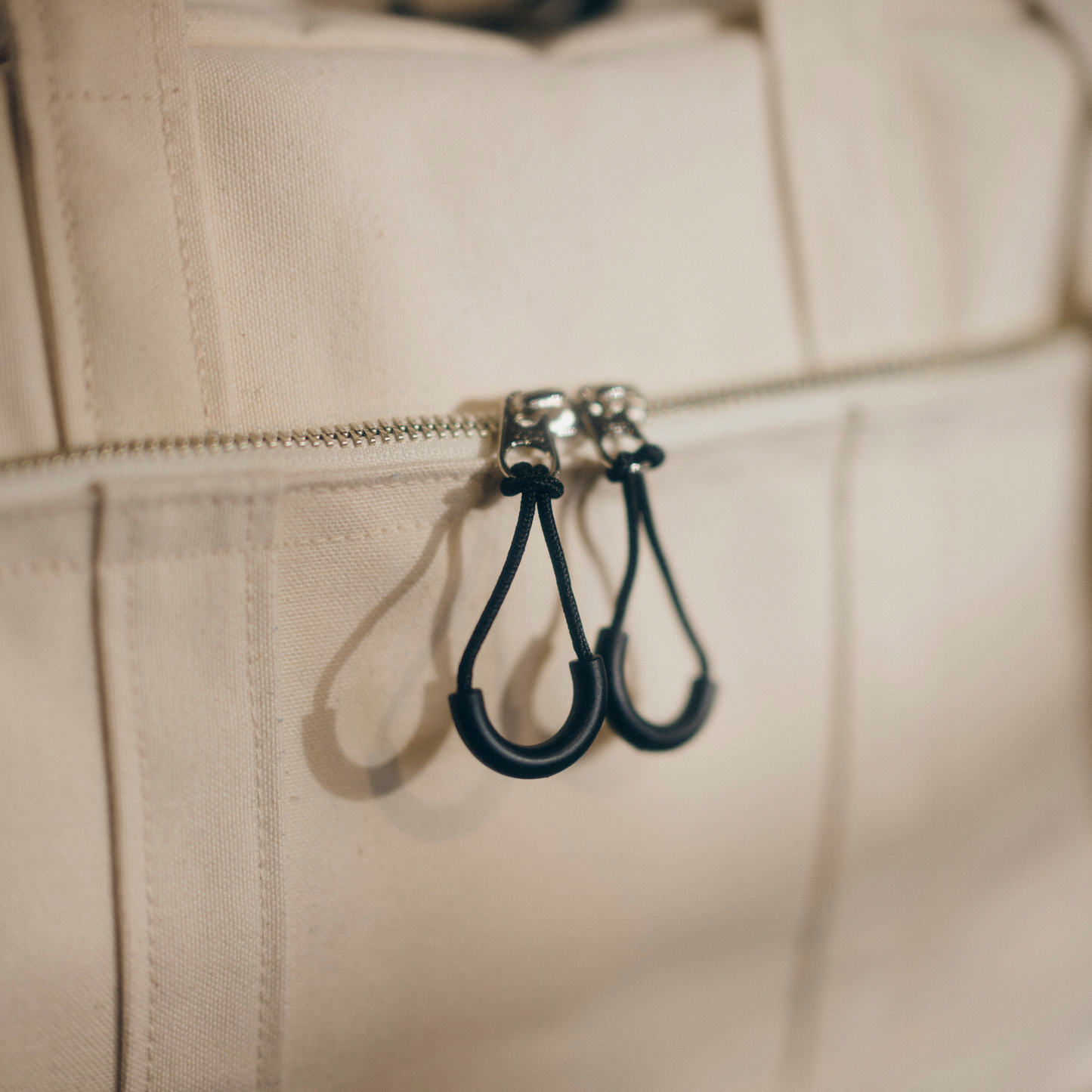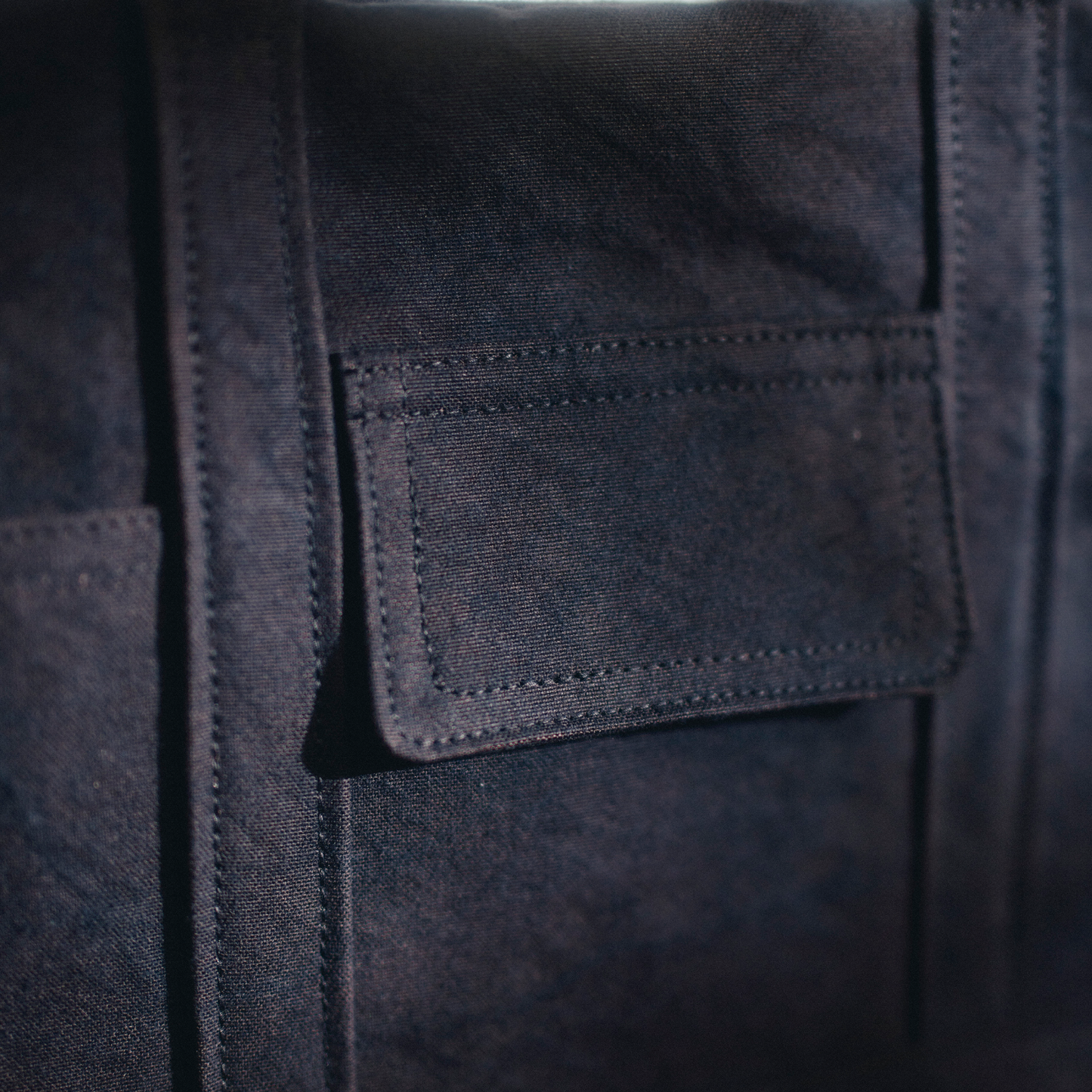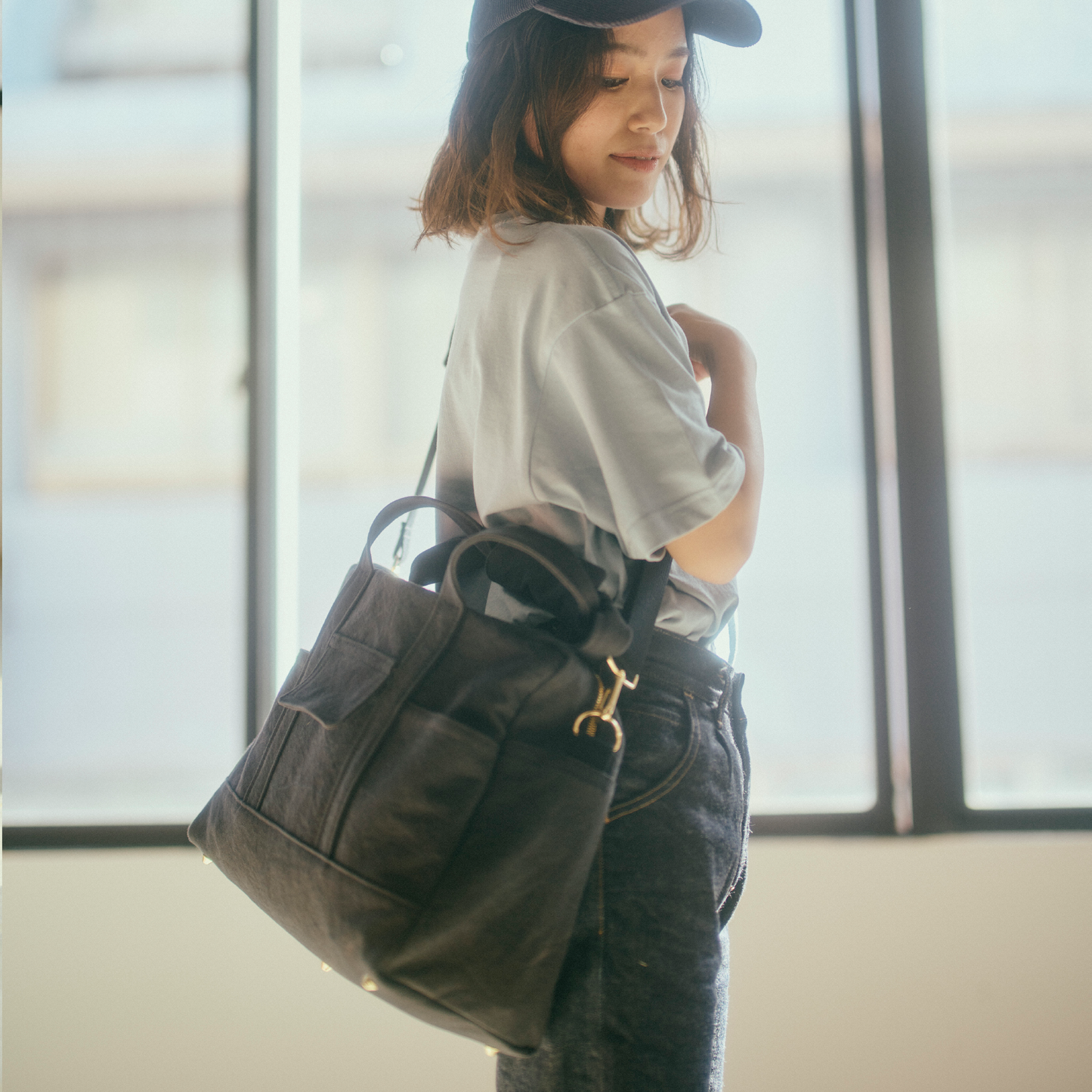 Any questions about product selection?

LINEで相談する
Easy to use anywhere. You can wear it on your shoulder or diagonally on a rainy day.
The width that is considered easy to use when riding a train, bus, or wheelchair". And a height that makes it easy to remove the bag when it is placed on the thigh. The bag can be used in a variety of ways, such as as a shoulder or over the shoulder when holding a shopping bag, a white cane, or even an umbrella on rainy days with one hand.
width:400mm
height:270mm
bottom gusset:150mm
It can hold a laptop computer as large as 16 inches; a 13-inch laptop can easily fit in the PC pocket.

Versatile partitions and storage space for quick and easy "here it is" finding.
A total of nine pockets are attached to the bag, including four pockets on the outside and a size and circular pocket on the inside that can hold a Macbook 16" (without case). The size, position, and number of pockets were set after verifying "ease of access" and other factors together with blind, sighted, and paralyzed hands.
Fair purchase of non-standard fabrics so that you can enjoy the changes over time.
We buy "substandard fabrics" destined for disposal, which would conventionally be sold at a beaten-down price, at a fair price offered by the factory, and use them as materials for this product. We hope you will love our products for a long time to come, as the more you use canvas material, the more you will enjoy the taste of it.

As close as possible to a single material, production within a single region, and circulation.
The body fabric, inner fabric, piping tape, shoulder strap, sewing thread, and other components of the bag are all made of "cotton," and the bag is designed to be easily recyclable when it reaches the end of its useful life.
In addition, the fabric, dyeing, sewing, packaging, and delivery of the bags are all done within the same area (Kurashiki City, Okayama Prefecture) to reduce the environmental impact of transportation and delivery as much as possible.
Fabric: Takeyari Corporation
Sewing: Amaki Corporation (Tsumugi) / Type B Center for Continuous Employment Support, nui
Dyeing: Urakami Dyeing Company
The price will vary depending on the amount of dyeing
Dyeing is done using a "washer (drum-type dyeing machine). This dyeing method has a history of processing denim products, which is Kurashiki's forte, and is typical of Kurashiki, a production center.
Dyeing with washers is easy to cope with small-lot production and is suitable for made-to-order production. In addition, because dyeing is done while rotating a large drum, the finished texture becomes more natural, and each piece is born with a unique expression.
For long-lasting use
If it gets dirty

All inclusive bags are made of "No. 9 canvas" which becomes more durable as it is used for a long time. After use, brush the bag with a soft brush along the twill line of the fabric to remove dust. For small stains: Use an eraser and rub lightly to remove stains. (*Be careful not to rub too hard, as this may cause uneven coloring.) For heavy soiling: Apply medieval detergent to a soft cloth or toothbrush and dab at the soiled area. Then, wipe off the detergent with a tightly wrung wet towel and hang dry in the shade.

Let's collect, recycle and repair!

Bags that are no longer usable for any reason will be used for SOLIT's research and development and for product planning and analysis using inclusive design methods. You can collect them by mail or bring them directly to the pop-up events organized by SOLIT! We will be responsible for circulating them.

It can also be repaired and recycled if it becomes dirty or broken. Please feel free to contact us for pricing and how we can help you with repairs.
Release Date
20221129
Product No.
022003
Type
Bag
Size
1size
Color
Ivory / Dark gray
Material
Body: No. 9 canvas (100% cotton) / Inner fabric: 79A (100% cotton) / Zipper: copper alloy, polyethylene / Bottom plate: Velporen (polyethylene) / Zipper tab: polypropylene, nylon / Other metal parts: brass
Contact Us
Please tell us the following when you contact us about our products.
All inclusive bag
Product No. 022003
Our Activities
NO MORE WASTE

LONG-LIFE PRODUCT

RECYCLING/REPURPOSING

HUMAN RIGHTS

BEYOND RULES
Choosing a selection results in a full page refresh.
Opens in a new window.