How can we realize an "all-inclusive" society where no one is left behind in terms of the diversity of people, plants, animals, and the global environment?
Such a society, where "differences" are accepted as they are and where all beings can coexist in a healthy manner, is what we have been dreaming of.
That is why SOLIT was born, a company to establish both inclusion and sustainability, through providing what is necessary and sufficient for people only as much as they need.
As one of the gears, we are looking for institutions and individuals to co-create a sustainable "all-inclusive economic zone," where people, goods and money circulate evolutionally. Why not be our collaborator or supporter to make this future happen together?
SOLUTION
We make only what is needed for the people who need it.
"SOLIT!" is a "completely made-to-order" fashion service that develops only what is needed with people who have felt the challenges of fashion from the planning stage, and produces only what is needed after it is needed.
You can customize your own clothes from more than 1,600 different options according to your personal preferences and physical characteristics.
We also provide planning and consulting services using our knowledge and data, such as innovative product development and environmental design, in collaboration with companies and medical and welfare providers who aim to realize the same future.
VISION
Building all-inclusive economic zone
What we want to achieve is an "all-inclusive" society in which the diversity of values and the choice of values are mutually recognized, and in which nature, living things, humans, and technology can all coexist in a healthy manner. This is not limited to the fashion field.
But includes everything necessary for life, such as medical care, welfare, construction, real estate, automobiles, furniture and appliances. We believe that it is necessary for companies, local governments and organizations, as many as possible, to enter this market.
Everything we do is the "sign" for the future we want to achieve.
For a future in which everyone can genuinely make the choices they want to make, without limitations, overcoming physical, mental, and social limitations, oppression, and all the other things that unconsciously bind us and others.
We believe that the more options there are in the future, the more prosperous the "all inclusive economic zone" will be. We are not forcing anything.
I believe that it would be best if the world were filled with "options for freedom and happiness," just like a galaxy, where all the wishes of all people, animals and nature come true.
SOLIT, It's for you now, and for us in the future.
Currently, we do not offer overseas transportation due to the environmental impact of transportation. But we're always open to collaboration and taking on challenges together!
We would be happy to send individual inquiries to this address.
BRAND

The inclusive brand "SOLIT!" is one of our trademarked products. We also provide specially customized products to hotels, sports teams, and hospitals.

CONSULTING

Now SOLIT's inclusive design has been recognized globally, and we support new business development through our knowledge of D&I, sustainability, and problem-solving based design.

R&D

We collaborate with Kishiwada Rehabilitation Hospital and SDX Research Institute to develop planning and tools by using physical and psychological data of inpatients and outpatients.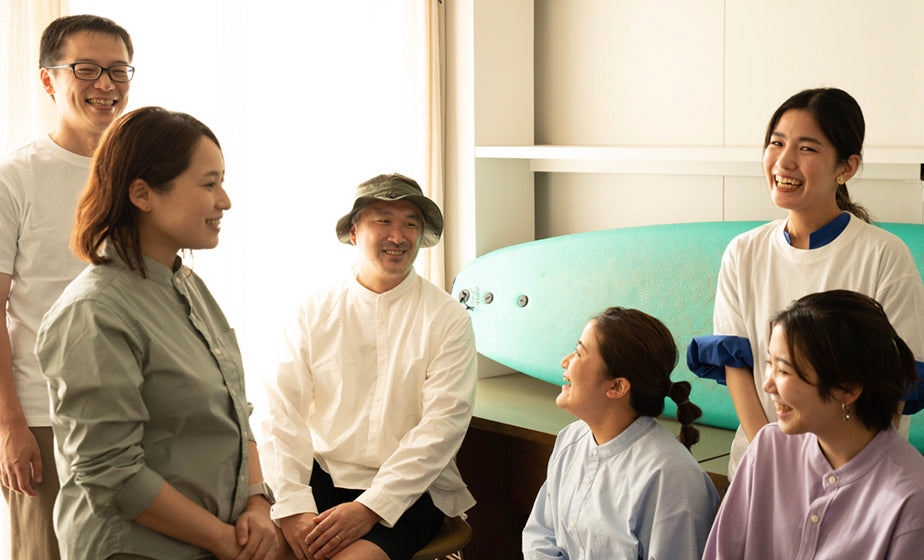 Team
We are a very diverse team. Our team members are all professionals in different fields. Professionals from various fields such as fashion, medical and welfare, creation, PR and marketing, etc. have come together as one team, empathizing with the concept of the " all-inclusive economic zone" and working beyond their affiliations and attributes.
While having a healthy sense of discomfort with the existing society and a will to change, we are immersed in creating what does not yet exist in this world, and we are excited even while troubled. We are a group of soft-hearted people who even find it fun to keep asking ourselves questions.
MISAKI

CEO/Founder
Caregiver

NATSUMI

SUSTAINABLE&HUMAN RIGHTS

ITSUO

DIRECTOR

YUKIKO

PROJECT MANAGER
Acupuncturist

ATSUKI

PLANNER

TOSHIHIRO

FINANCE

KEN

RESEARCHER
Occupational therapist

YURIKA

RESEARCHER
Occupational therapist

KYOHEI

RESEARCHER
Physical therapist

TOMOKO

GRAPHIC DESIGNER
Caregiver

SHO

FINANCE

AKIKO

ADMINISTRATION

YOSHIE

HR

ZAKKY

PLANNER

SHINICHI

MARKETER

KUNIHIRO

STOCKHOLDER

SHOICHI

STOCKHOLDER

SUZUKA

WRITER

TAICHI

PLANNER

GU LAN

SALES

LI XIAOFENG

ENGINIEER

XU JIANLIANG

PATTERNER

XIA JIANZHONG

CUTTING

SIMA QINGHUA

SEWING

LU JINGMIN

SEWING

LUO WENFANG

PRESSING

CHENG DEJIAN

INSPECTION

REN HUIYAN

PACKING

PENG ZHIYUAN

MANAGER

NAOKI

ADVISORY BOARD

RURIKA

ADVISORY BOARD

ASKA

ADVISORY BOARD

MASAYUKI

ADVISORY BOARD

YASUHARU

ADVISORY BOARD

LAILA

ADVISORY BOARD